We may earn an affiliate commission from partner links on the Entrepreneur Guide. These do not affect our editors' opinions.
Babbel is a language learning platform that was created in 2007. Since then, it has become one of the most popular language learning apps available. Babbel is designed to help users learn a new language in a fun and interactive way. It offers courses in 14 of the most common languages, including Spanish, French, German, Italian, and Portuguese.
In this review, we will take an in-depth look at the pros and cons of Babbel, its key features, top competitors, pricing, and frequently asked questions. We will also discuss why Babbel is considered the best language learning app and how well it fares for learning Spanish.
Babbel at a glance.
Babbel's interface is easy to navigate. It's easy to find the course you're looking for or even switch languages.
Babbel's interactive exercises are engaging and fun, which helps to keep you motivated and interested.
Babbel uses artificial intelligence software to monitor your progress and adapt lessons based on your strengths and weaknesses.
Babbel teaches you how to communicate in real-life situations. The platform uses dialogue based on real-life scenarios, which helps understand how to speak and understand a language in practical situations.
Babbel has an app that runs on iOS and Android devices. You can study on the go and pick up right where you left off.
Babbel only offers courses in 14 languages, which is fewer than other language learning platforms.
Babbel is designed for beginners and intermediate learners. Content may be too basic for advanced speakers.
Babbel has a limited amount of speaking exercises and feedback is not as thorough as competitors.
Babbel does not offer live tutoring, which means users cannot speak with a live tutor to practice their language skills.
Babbel offers a limited amount of free content. To access all the courses, users will need to pay for a subscription.
Key Features of Babbel
Interactive Dialogues
Babbel uses interactive conversations to teach users how to speak and understand a language in real-life situations. The dialogues are based on real-life scenarios, which helps users to understand how to communicate in practical situations. They also increase in difficulty as you practice more, going from selecting the right word to unscrambling and typing it.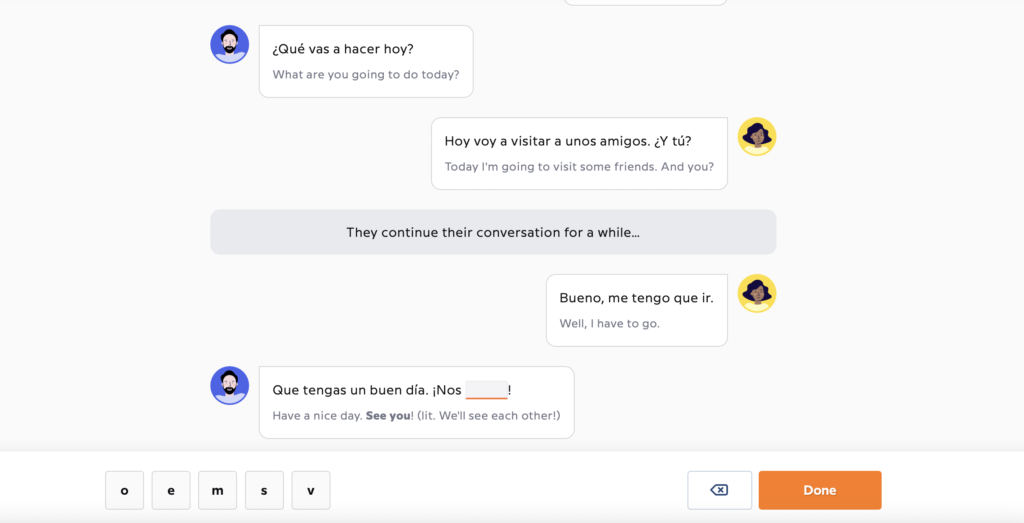 Vocabulary Lists
Babbel provides vocab lists that users can use to improve their reading and writing skills. The lists cover a range of topics, from basic vocabulary to more advanced terms. These vocabulary terms are shown to users in several different ways to build familiarity. There's definition matching activities, pronunciation, and even typing the words out in mock conversations to work on accent placement.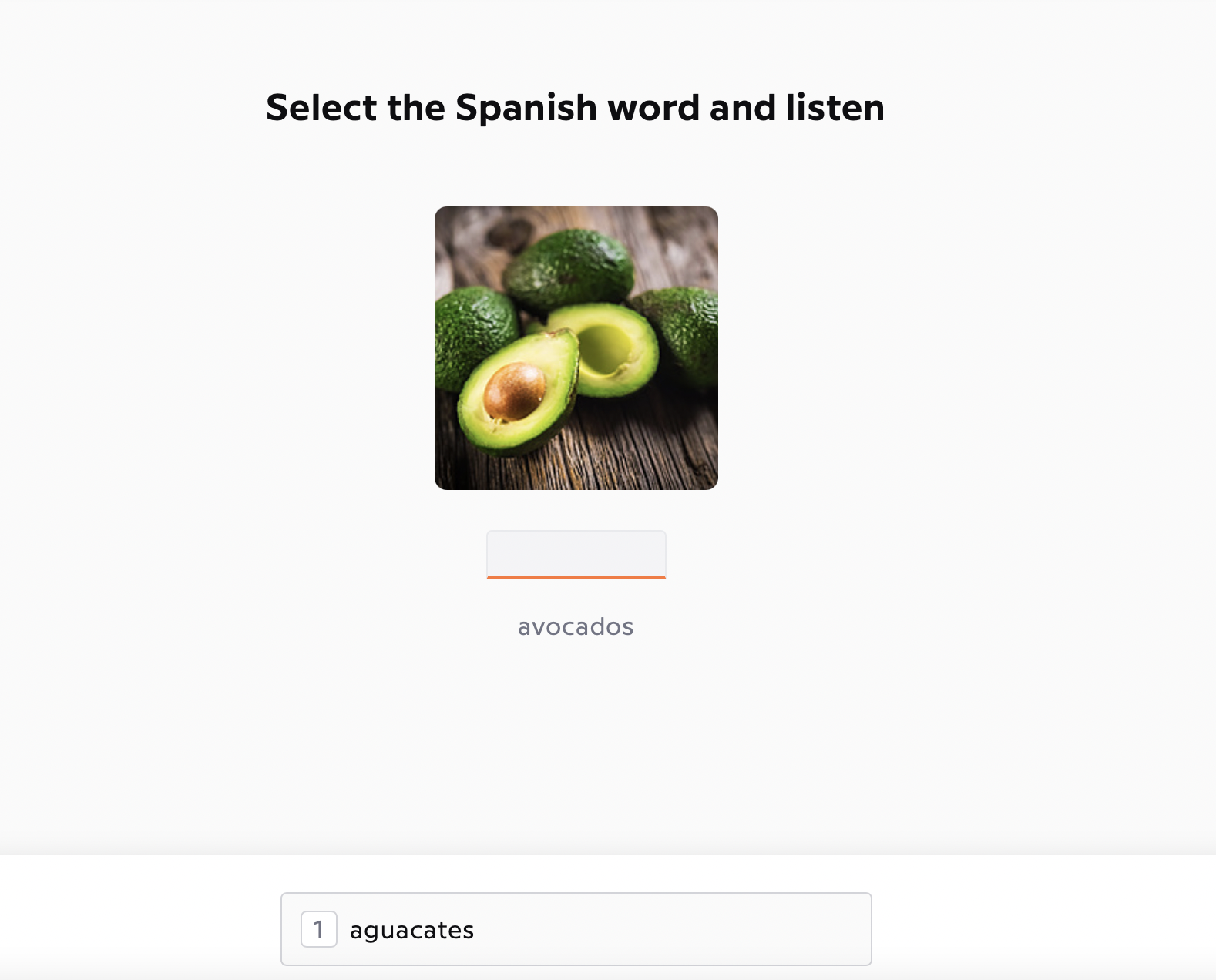 Grammar Exercises
Babbel has multiple grammar exercises to help users build coherent sentences in other languages that use different grammar devices. For example; Spanish doesn't use apostrophes and you have to structure your sentences differently to show possession! The exercises cover a range of topics, from basic grammar to more advanced concepts.
Personalized Learning
Babbel uses AI to personalize learning experiences for each user. The software monitors your progress and adapts lessons based on your strengths and weaknesses. If vocabulary is your strong suit but grammar is giving you trouble, Babbel will suggest practicing more grammar exercises.
Speech Recognition
For those who have access to a microphone through a computer or smartphone, Babbel has speech recognition sections that allow users to practice their pronunciation for vocab and sentence building.
Babbel Experience
Babbel's interface is very user-intuitive. Navigating the pages and lessons is super easy and your current lesson is right on your homepage. The bottom of the homepage has a tracker where you can set goals and see your progress.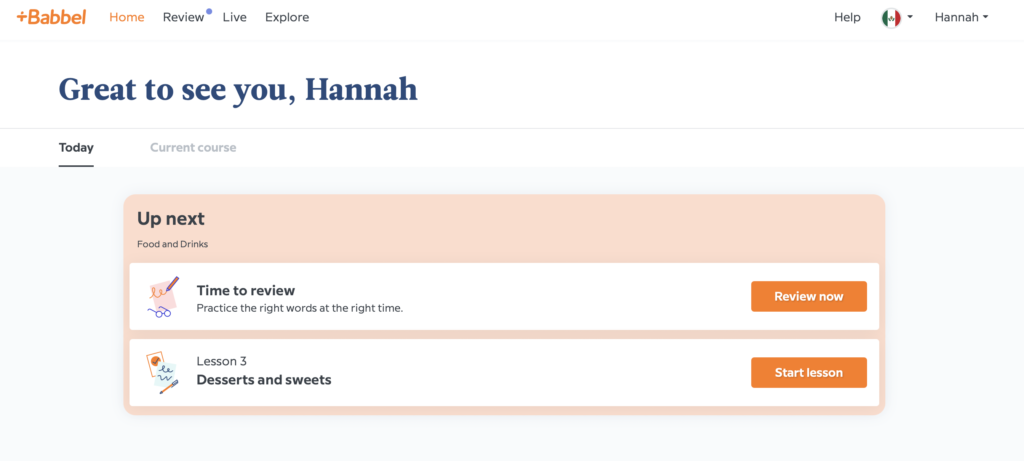 As far as actual content goes, Babbel does a good job of easing people into learning a new language in a fun way. The first course was basic greetings, followed by an introduction to beginner verb conjugations. The exercises focus on repetition of hearing, seeing, and spelling new vocab and grammar. Even if you are a complete beginner, you'll be able to create sentences and carry on basic conversations after just a short amount of time using the platform. I grew up speaking Spanish, but there were even certain dialect-specific phrases that I was able to learn from just the beginner courses.
Top Competitors
Duolingo
Duolingo is a free language learning app that offers courses with games in more than 30 languages. Duolingo's courses are more basic than Babbel's, making it better suited for beginners.
Rosetta Stone
Rosetta Stone is one of the first pioneers of language learning software. It offers courses in over 20 languages focuses more on an immersion method than games like other language learning apps. Rosetta Stone offers more advanced courses and a more immersive experience at a higher price point, making it better suited for advanced learners.
Memrise
Memrise is a free app that offers courses in over 20 different languages and has a similar approach as Babbel and Duolingo. Members can also create their own courses and content, giving more variety to learn from. Memrise focuses more on vocabulary than grammar, so it's better suited for beginners who want to improve their vocabulary quickly.
Busuu
Busuu offers courses in over 12 languages and is similar to Babbel and Duolingo. Aside from interactive exercises, vocabulary lists, and grammar lessons, Busuu also offers live tutoring, which sets it apart from its competitors. Busuu is more expensive than Babbel so it's best for those who want to practice their speaking skills with a live tutor.
How much is Babbel?
Babbel offers a variety of pricing options, depending on the length of your subscription. You can pay upfront for a selected amount of time for a lower monthly cost. Babbel also offers a 20-day money-back guarantee for all subscriptions.
1 Month Subscription: $13.95/month
3 Month Subscription: $9.95/month
6 Month Subscription: $8.45/month
12 Month Subscription: $6.95/month
Top 5 FAQs
How does Babbel compare to other language learning apps?
Babbel has comparable content to other language learning platforms like Duolingo, Memrise, and Busuu. However, at a lower pricepoint, you get the most bang for your buck with Babbel. Their more advanced curriculum is also better suited for intermediate learners.
Is Babbel suitable for beginners?
Babbel's beginner courses cover basic vocabulary and grammar concepts, making it a great choice for those who are completely new or re-learning a language.
Does Babbel offer speaking practice?
Some of Babbel's interactive activities have an option for speech recognition, but the feedback is limited and there is no live tutoring or speaking option.
How well does Babbel fare for learning Spanish?
Babbel's Spanish courses are more extensive than competitors. They also have the option to select Latin American or European Spanish. The activities provide a good base understanding of Spanish vocabulary and grammar that are important for day-to-day conversation.
Is Babbel worth it?
Babbel is definitely worth it. Whether you're trying to learn a new language for a trip or just for fun, the activities and lessons are engaging and applicable. Paying upfront lowers the monthly cost, but Babbel also has a 20-day money-back guarantee for all subscriptions, so users can try it risk-free.
Bottom line.
Overall, Babbel is an excellent language learning app that offers personalized learning, interactive exercises, and real-life scenarios. It has a more advanced curriculum than other language learning apps. Even though Babbel doesn't offer live tutoring, it's reasonably priced and different subscription options fit every budget. If you are looking to learn a new language, Babbel is definitely worth trying out.

For learning Spanish specifically, Babbel offers excellent courses in Latin American and European Spanish. Its Spanish courses cover a wide range of topics, making it a great choice for both beginner and intermediate learners. The variety of exercises and topics help learners practice speaking, listening, reading, and writing in Spanish, making it an immersive and effective way to learn the language. Babbel is one of the best language learning apps for learning Spanish and any other language you may be interested in.